CONTACT
A&A Gastronomie GmbH
Frankfurter Botschaft
Westhafenplatz 6–8
60327 Frankfurt am Main
Restaurant: +49 69 15342143
Office/Contact for group reservations/events etc.:
+49 69 15342522
willkommen@frankfurterbotschaft.de
Management & press contact: Daniel Arons
OPENING HOURS
Tuesday to Saturday
6–11pm (Kitchen service until 9:30pm)
With good weather conditions, the Botschaft Beach is open Tuesday to Sunday.
Sunday and Monday the restaurant is closed.
VOUCHERS
If you want to give your loved ones a treat à la Botschaft, you can order vouchers at any time via email at willkommen@frankfurterbotschaft.de. For more information on ordering vouchers, just send us an email.
HOW TO FIND US
Parking
In the evening we offer VALET-PARKING from 6 pm:
Drive via Speicherstraße to Westhafenplatz and stop your car directly in front of the restaurant. A member of staff will park the car in the underground car park and drive up again later (exit via Werftstraße). The parking fee for the whole evening is 8 euros.
Please note that this service, in the context of an event, can only be provided, if it is booked in advance by the organiser.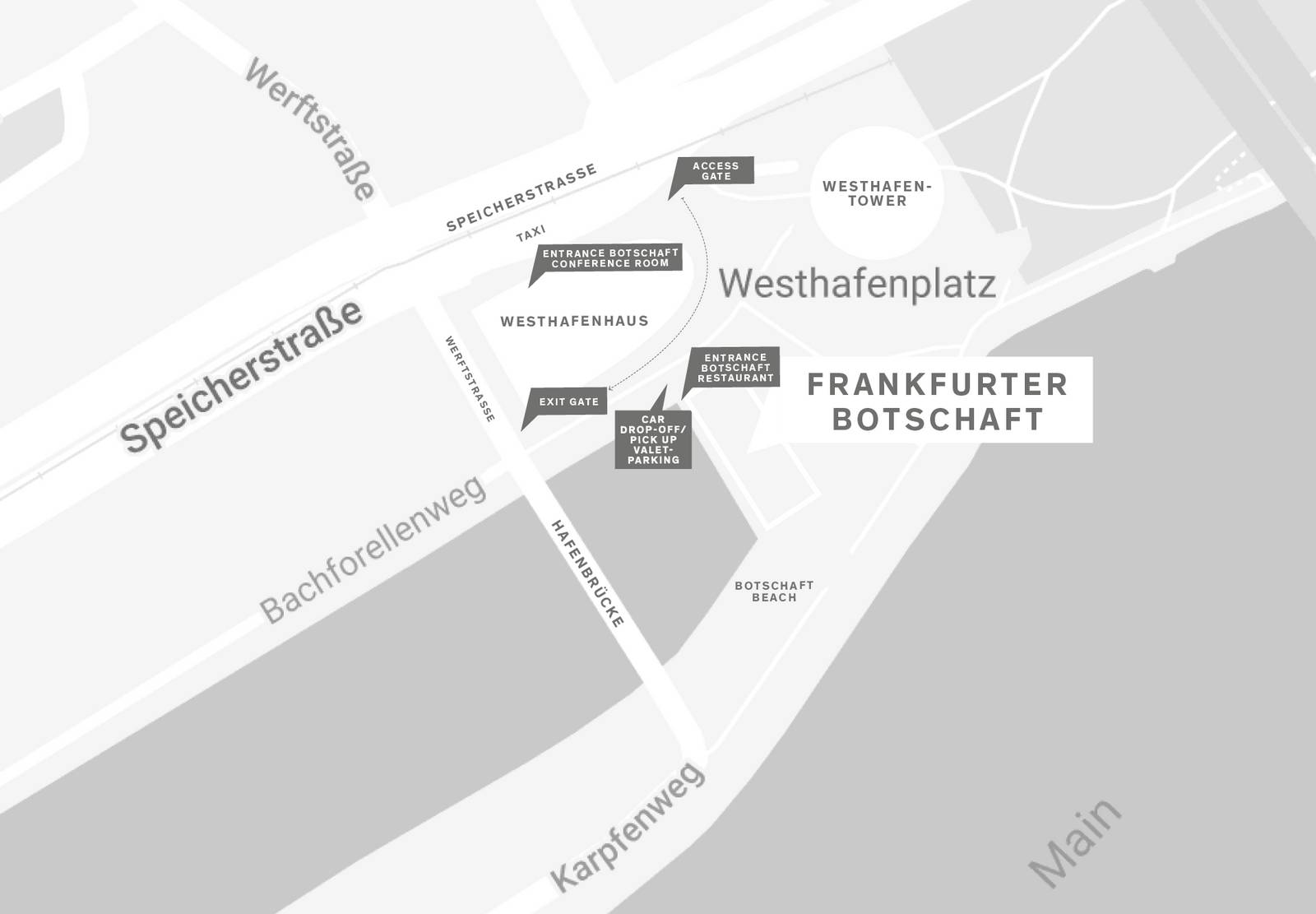 Alternative
Public car park at Hotel Ibis, Speicherstraße 4, 60327 Frankfurt, or car park Baseler Platz, Gutleutstraße 89, 60329 Frankfurt.
Public transport
Main station (S-Bahn and U-Bahn, DB) and tram stop Baseler Platz (line 17)