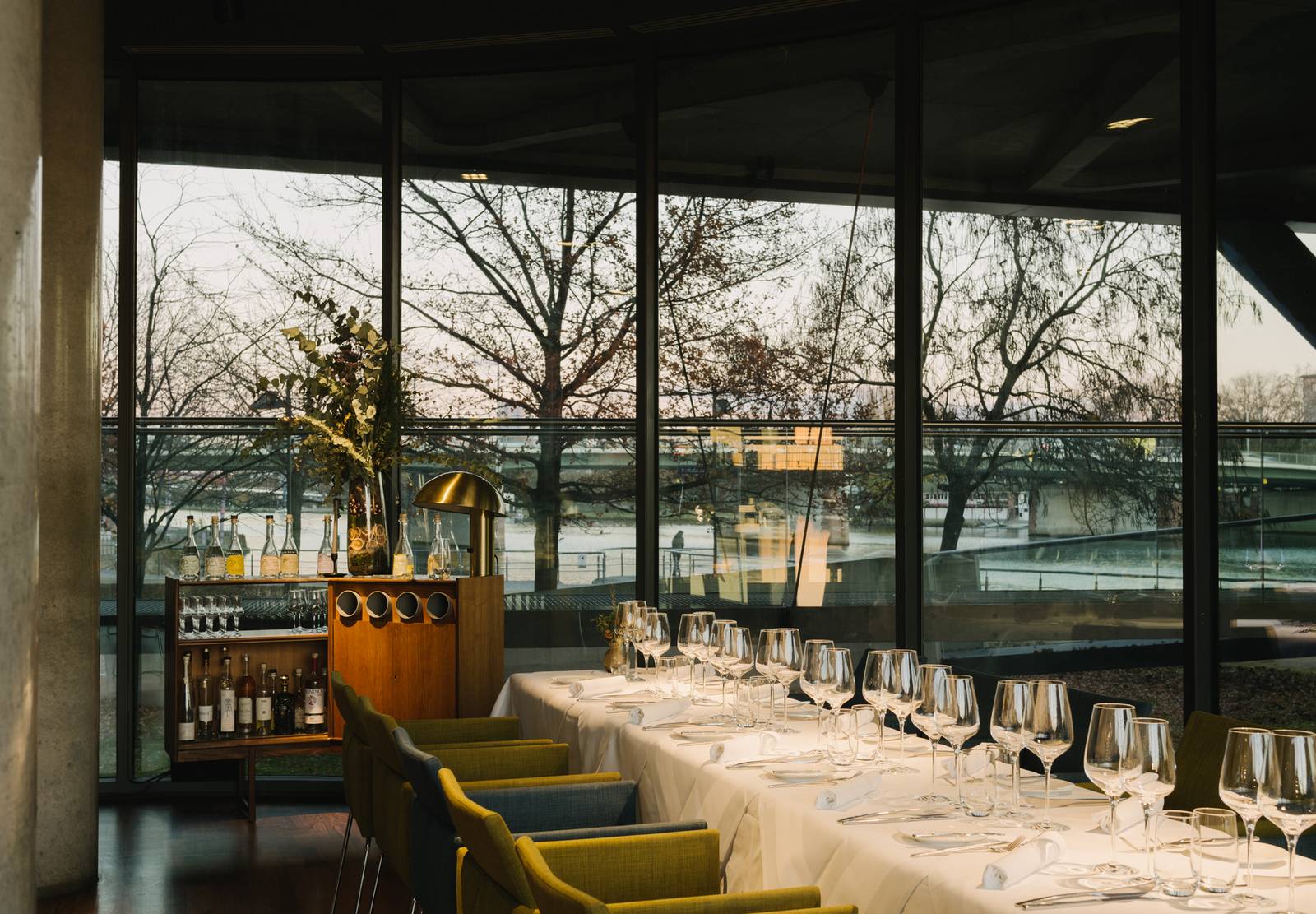 An extraordinary location for special enjoyment – Frankfurt's Westhafen is the perfect place to meet, enjoy and linger in a unique atmosphere directly at the Main. The impressive building on the riverbank forms the atmospheric backdrop for the restaurant's extensive outdoor area. With its covered terrace and the Botschaft Beach it offers ample space for open-air dinners and relaxed get-togethers in summer. Whether in the restaurant or on our cozy terrace and at the Botschaft Beach in the warmer months – we look forward to offer you pleasant hours and culinary delights during your visit at the Frankfurter Botschaft.
If you are looking for a beautiful location for festive events of any kind – from birthday parties, weddings (Frankfurt's Römer is within walking distance) to company celebrations, conferences or workshops – we are happy to organise a special experience for you and your guests at the Frankfurter Botschaft, whether indoors and/or outdoors. From small-scale celebrations to events with hundreds of guests, there are no limits to our planning scope. With expertise and attention to detail, we ensure that everything runs smoothly, from planning to the event itself. As a matter of course, we will support and advise you on all aspects of your event, whether it's choosing a menu, decorations or the right event technology.
For more information about our event offers as well as enquiries, please contact us by email at willkommen@frankfurterbotschaft.de or by phone: +49 69 583035670. We look forward to the exchange!
RESTAURANT & BAR
Dining with a water view – in the rotunda of the Frankfurter Botschaft, the charm of the Westhafen flair can be enjoyed with attentive service in an undisturbed, harmonious ambience. The restaurant offers space for around 75 guests, and up to 100 people at events. A separate conference room can also be rented for meetings, workshops or get-togethers.
TERRACE
Large-format harbour cinema in the middle of Frankfurt. Between olive trees and lots of greenery, our covered terrace offers cozy front row seats with a view on the water and its surrounding area to unwind with culinary delicacies from the Botschaft kitchen. Seated meals for up to 120 people are possible on the terrace.
BEACH
Beach atmosphere and sand under your feet – in the middle of the city. Our Botschaft Beach not only offers enough space for sun worshippers, but also for all those who want to escape the fast pace of everyday city life for a short while and linger in a little oasis. With barbecue, snacks, ice cream and drinks, the Botschaft Beach offers space for about 350 guests.